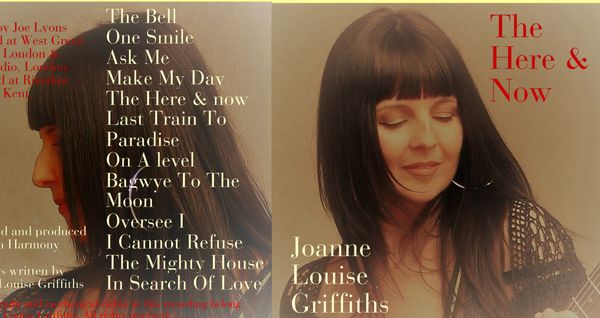 As long as you can see the good things in your life you will always find happiness ..
My Story
I was born in Liverpool, my mum is a classically trained singer and so I followed ... but in my own footsteps. Influenced by soul, jazz and folk and particularly the songwriting and sounds of many artists I grew up listening to such as Fleetwood Mac, Joni Mitchell, Kate Bush, Peter Gabriel, Ella Fitzgerald, Billie Holiday, Stevie Wonder and Bob Marley, Cocteaux Twins, Led Zeppelin.
I have released two albums and currently living in in Penny Lane, Liverpool... back to my roots! I am preparing my third album and performing every week.

I began at school at the age of nine and swiftly employed to sing at virtually every school assembly (Lambshear Lane, Lydiate) winning my one and only prize the music prize at the end of my primary years. I had to get over my shyness and as a teen auditioned for a local Crosby based band Islands Of Dance, (later to become I-Lands) we were on the Liverpool music scene, I sang ethereal backing vocals.
I-lands released a single In The Rain and appeared supporting the Icicle Works at Pickwicks and James at Lark in the Park, I had a great mention in the NME!
I had picked up the acoustic guitar when I was 15 given to me by close family friend Brian O'Hara from 60's band The Fourmost and eventually I began to write my own material, I recorded a few demos and played regularly at venues such as The Flying Picket and various other singer/songwriter haunts in and around Liverpool. And even played at one of the last CND rallies in the centre of Liverpool Town.

Moving to London in May 1993 was a huge change and led to regular gigs in the Acoustic Room of The Mean Fiddler and I even played a totally unplugged gig at the legendary Bungies in Leicester Square just after Jeff Buckley had performed there and not long before Bungies became history.
  It was at the Mean Fiddler where I met drummer Malcolm Hawkes who introduced me to his brother Martin (guitarist), and along with Nick Cohen (Incognito, Annie Lennox) on bass guitar this led to the formation of The Mighty House.
With the financial input of a family friend of mine Robert Gordon, we recorded a mini album "Love The Sea Is Blue" with guest appearances from percussionist Preston Heyman (Kate Bush, Tin Tin Out) and beautiful string quartet arrangements by Ambrose Eddison Hall ( Portishead) and for the first time online several of these tracks are now available here.
And here   :Body Bright ( featuring the beautiful string arrangement of Ambrose Eddison Hall )
The album did inspire the music industry and a showcase for Muff Winwood from S2 records was held at The Mean Fiddler Acoustic Room... Winwood was impressed " Jo put on an excellent show.."... unfortunately he said he did not know how to market the music :(    so back to the drawing board..

The Mighty House had disbanded and I continued to write and began producing material with soul, reggae and jazz as my influences whilst bringing up my son in the heart of Tottenham. This period of my life introduced me to the wonderful sounds of the world particularly reggae. The message and feel good rhythms of African and Asian and Latino music and later blues captured my soul. 

Continuing to perform at most acoustic venues in London such as the 12 bar club. I was driven to develop my sound.

I completed a sound engineering course at DAC studios in Tottenham Hale and recorded a great duo track there with local rapper Brasco entitled " Think What You Do..."  which I will make available soon on this website.
Now Sporting a borrowed red telecaster I worked with a few local female musicians and created the Cosmic Convention... playing the very first gig and many more presented by Raison d'Etre for Yvan & Crystal and later to perform for them at Camden's Jazz Café event.
I also performed the song The Mighty House with the Cosmic Convention for Prince Edward (patron of the theatre) and Sophie at the Theatre Royal in Stratford.

I began to prepare the next album...  with my new dinky Yamaha strat... which is an amazing little guitar...and after securing free studio time I recorded a demo of The Here & Now, plus 2 songs... and on the way to Brighton to play a gig one evening I met David Barker on the train who was very interested in my work and listened to my demo's and offered some financial assistance which kick started the recording of The Here & Now.
Working with Lewis Fielding on bass guitar and slide guitar and Sarah Wackett on flute I decided to call us The Jetsuns and a couple of years of an intense learning curve as I learnt to record the full band edit and mix with protools. The album features the 2003 BBC Jazz award winner trumpeter Byron Wallen and Joe Auckland (Madness). Listen & Buy The Here & Now
The album was reviewed several times included a great write up by Keith Ames from Musician Magazine (Musicians Union) and was described as " … an oasis of calm and healing. Lovely."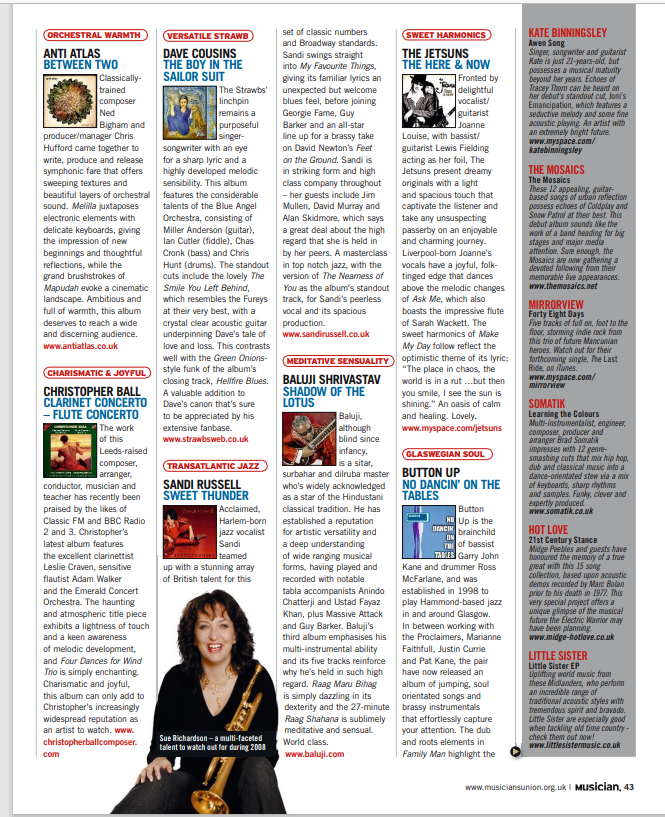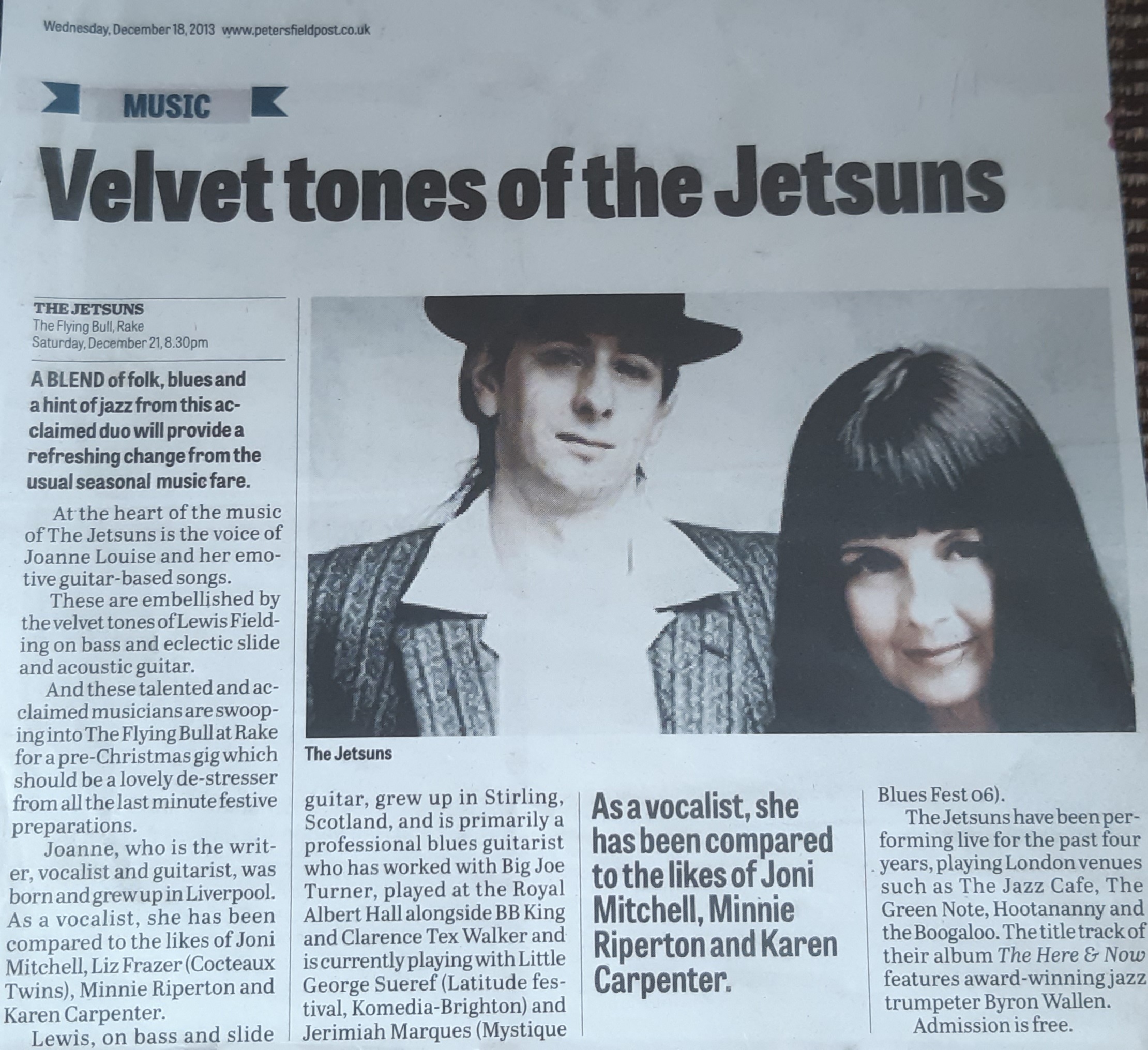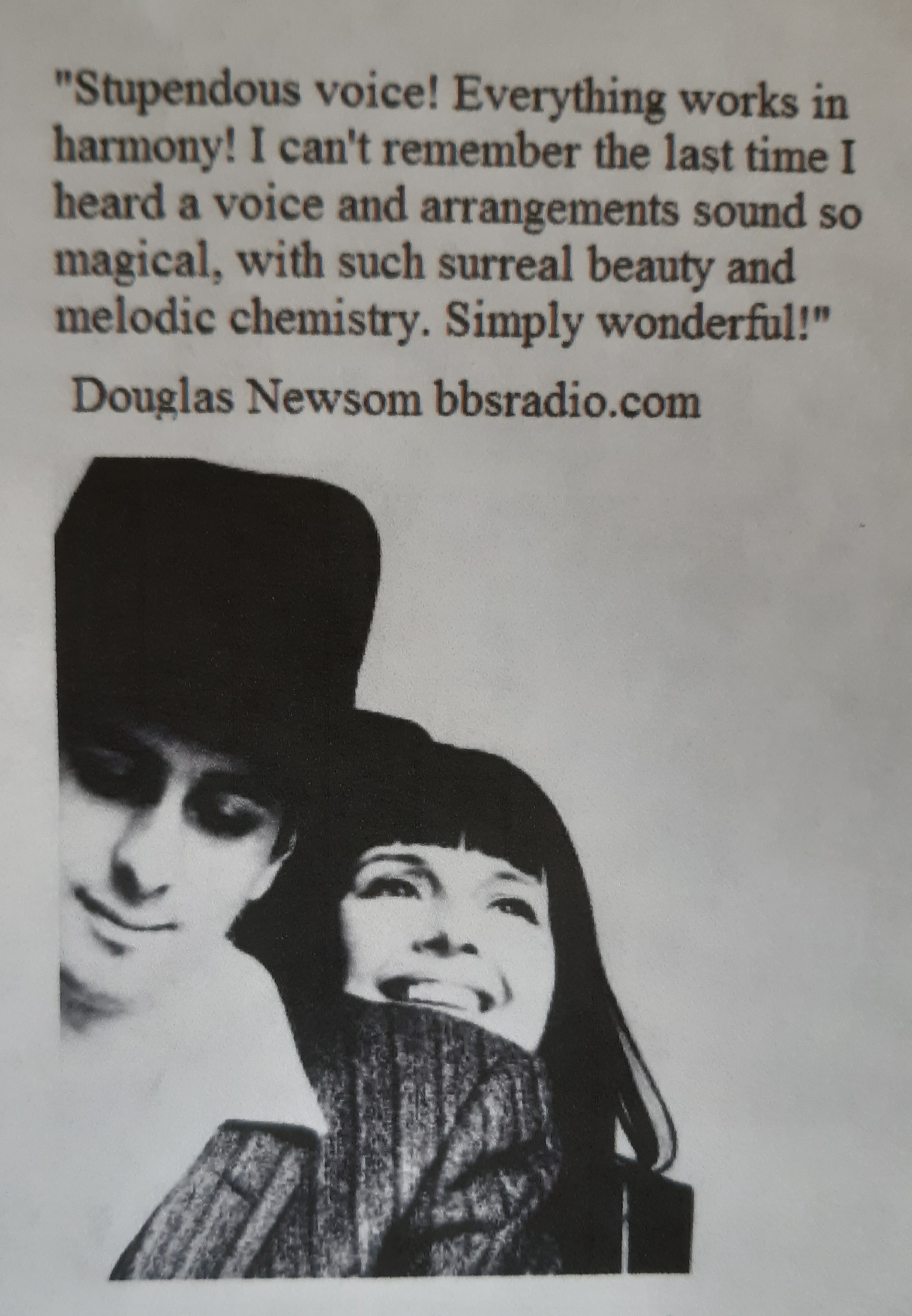 Unfortunately on the day of the launch of my long awaited album at Boogaloo in Highgate (20th March 2008)  disaster struck, my parents who were travelling down to attend where involved in a horrific car accident, fortunately they both survived but sustained serious injury... this affected me greatly and the push to get the album out there was severely scuppered. It was not a priority.
After a year or so I began promoting my songs again and played at fabulous London venues such a The Jazz Café and The Green Note, moved with my then partner Lewis Fielding and began playing TheJetsuns duo gigs with him regularly in Petersfield and Haslemere.
I left the South of England in late 2014 and then took off on adventure to Spain... working in Menorca and Lanzarote for 18 months where I performed twice a week a mixture of originals and covers and I realised that it was about time I played music full time.
I returned to Merseyside in October 2016, running open mics and working hard in and around Southport to sustain myself while developing the sound for the next release.
The album The Here & Now (available here on CD and download) was originally under the band name The Jetsuns but since 2016 being a solo artist has become my focus and I have re-released the album under my own name Joanne Louise Griffiths. 

So to the here & now... well my next album is in the making, more blues influenced material and a little country vibe creeping in along with songs of a cool jazzy edge.
I am of course performing regularly in and around Merseyside and I have appeared at Liverpool Acoustic at one of the last shows at Open 2 View Gallery plus several times at Club 27 including a great event Musicians against Homelessness and I am performing weekly solo and occasionally duo, we  appeared at Bickerstock '18 and also Folk On The Dock '18 and at several other popular community festivals and running several live music & open mic nights in Southport and Preston.. In 2020 myself and Katie Mac from international performing band The Jesse Janes (who were on a covid sabbatical) decided to form  country blues duo Feather with a few of my originals we create a unique live sound come and check us out https://www.facebook.com/Soundoffeather/
The Jesse Janes got back to work in 2022.. Feather are still performing together time permitting so I now have ANOTHER duo with Stuart Hartley on banjo and guitar, we are called The Time Tinkers similar well know material with a few surprises here and there our page https://www.facebook.com/thetimetinkers
More original songs coming as soon as possible!! 
Please check my shows section on here Upcoming Gigs and do come along and support live music and of course join my mailing list  and for  Latest news  and a free download! Contact